It was worth the wait!
That was the verdict after N-Vision's very first Café Club in Blackpool.
The Blackpool Fylde and Wyre Society for the Blind has been running monthly café clubs with great success at St Annes,  Kirkham, Cleveleys,  Poulton and Fleetwood – but the perfect setting for one in the heart of Blackpool was proving elusive.
Until now. Phil Richardson who runs the café clubs under the auspices of the charity's Big Lottery-funded VIPS – visually impaired personalisation programme – has bagged an incomparable venue. The majestic Mazzei at the Winter Gardens is the crème de la crème in a town with no shortage of big name coffee house chains.
It fits the society's bill perfectly thanks to its central location, relative ease of accessibility, and the sheer sense of space and grace all around.
Phil was delighted with the new Café Club. "I was so grateful for the staff and volunteers' help.  We had met with the managers at the Mazzei café who were supportive, but I was naturally apprehensive about how it would actually work out on the day.
"We had 23 clients attending and about partners, friends, carers.  There were quite a number of different clients, facing different challenges and wanting information about a variety of matters. I have already arranged for visits to some and to take equipment to the next one.
"It's great to get this kind of feedback – 'it's nice to speak to other people who have the same problems as me' and 'I haven't been out for ages but am really glad I came.'
"That is what the Café Clubs are all about -hopefully reaching out to people who otherwise would not feel like going out and therefore can be defined as "isolated"- which in itself is a really common word used in the voluntary/statutory sectors when discussing need/risk."
For some it proved a trip down memory lane.  Margaret and Brian Heyes met at a dance here "back in the day"  as Brian, 80, puts it. On leave from the Navy Brian cut a dash as he caught the eye of the beautiful young woman he would later marry.  The couple have been married for 54 years and have two sons and four grandchildren. They were both delighted at how 'beautiful the Winter Gardens is inside' after extensive renovations under local council ownership.  It's worth noting that the charity actually started in Blackpool back in 1910 – the very same year the Opera House (mark two)  was being rebuilt.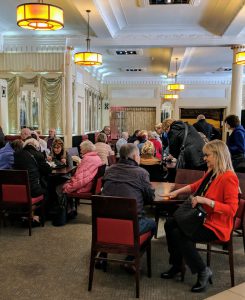 The Café Club also gave clients the chance to chat to staff away from the Bosworth Place, Squires Gate, base of the Low Vision Centre and Sharples Hall. Eye clinic liaison officer Linda Sethi was on hand to chat to newcomers and established clients. "It was lovely to talk to Linda," Margaret said. "It really helps to talk things through."
As the coffee and tea flowed so did the conversation and strangers left as friends more than an hour later, with  June Mather and Sherrie Wait pausing for a photograph in front of a statue that celebrates friendship, love, light and laughter.
Morecambe and Wise smiled down on the 30 or so newcomers to the Mazzei – named after the film set designer who brought so much magic to the Winter Gardens.
Bring me sunshine?
N-Vision just did –the Café Club will be back in Blackpool on June 5 from 10.30am to 11.30am. For details of others call (01253) 362696.